Why Choose a Board Certified Orthodontist? – Castle Rock, CO
Specialized Training & Experience
Dr. Rejman is currently one of the few Board-Certified Orthodontists in Douglas County. He has been Board Certified by the American Board of Orthodontics since 2007 and has passed his Certification Renewal examinations in 2013 and 2022. Dr. Rejman is passionate about the importance of board certification and the ABO's mission:
The mission of The American Board of Orthodontics is to elevate the quality of orthodontic care for the public by promoting excellence through certification, education and professional collaboration.
In 2022, Dr. Rejman was elected as one of eight Directors of the American Board of Orthodontics, and will represent the Rocky Mountain Society of Orthodontics in this position until 2030. He completed his term as President of the College of Diplomates of the American Board of Orthodontics, where he served as a councilman from 2014-2022. To verify an orthodontist's board certification, or to find a board certified orthodontist in your area, click here.
What is a Board Certified Orthodontist?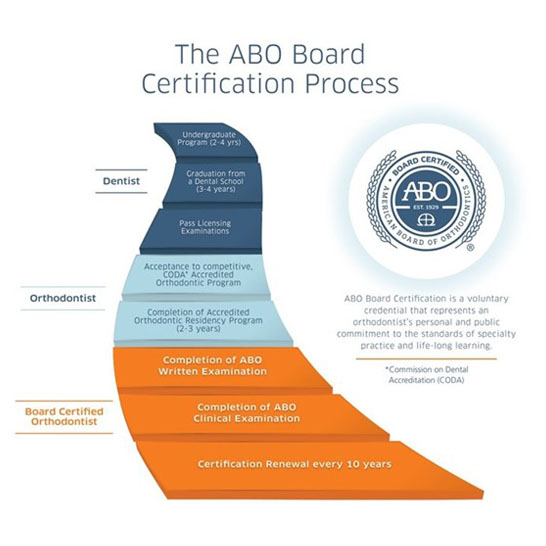 An orthodontist is a dentist who has not only completed a graduate program in dentistry to receive their DDS or DMD (Doctor of Dental Surgery or Doctor of Dental Medicine), but has also gone through a competitive residency at a CODA-accredited orthodontic program for an additional 2-3 years to be trained specifically in orthodontics and dentofacial orthopedics.
ABO Board Certification is a voluntary credential that represents an orthodontist's personal and public commitment to the standards of specialty practice and lifelong learning. The ABO Certification process requires the completion of peer-developed, externally validated written and clinical examinations. A Board Certified Orthodontist has reached this level of achievement by pursuing additional voluntary education and ongoing self- assessment.
Board Certification is confirmation of an orthodontist's personal commitment to providing lifelong quality patient care.
The American Board of Orthodontics is partnered with the American Association of Orthodontists and is recognized by the National Commission on Recognition of Dental Specialties and Certifying Boards as the national certifying board for Orthodontics and Dentofacial Orthopedics.
To find a Board Certified Orthodontist in your area, or to verify ABO certification status, click here.