Orthodontic Services – Castle Rock, CO
How We Create Beautifully Straight Smiles
As soon as you step through our doors, you'll realize that we're not your typical orthodontic practice. The oil paintings you'll see around the office were painted by our very own Dr. Dan Rejman. Thanks to his artist's touch, combined with the expertise and training required to become a Board Certified orthodontist, you can rest assured that you and your family's smiles will look simply stunning after treatment. Feel free to click the links below to learn more about how we create beautifully straight smiles!
Traditional Braces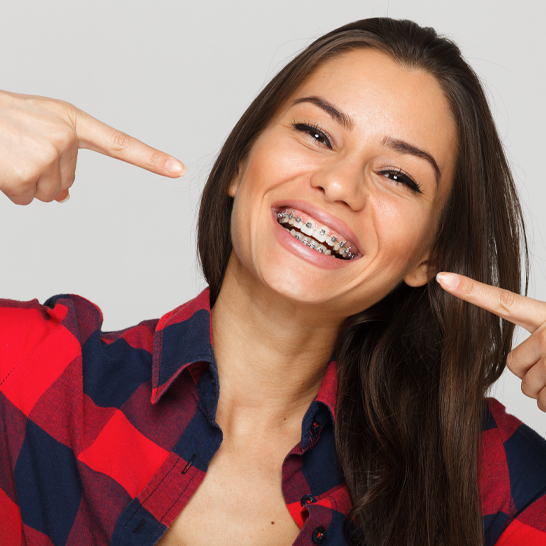 There has never been a better time to be in traditional braces! The brackets are small and more comfortable than ever before. A metal bracket is bonded to the front of each tooth, with an arch wire threaded through them to gradually shift the teeth into their ideal position. This solution is incredibly versatile and effective. It even has the "fun factor" because patients get to choose the colors of their rubber bands, allowing them to show their school spirit or support their favorite sports team. There is a fun pattern board at each office for our patients to choose from – or they can create their own!
Learn More About Traditional Braces
Clear/ Ceramic Braces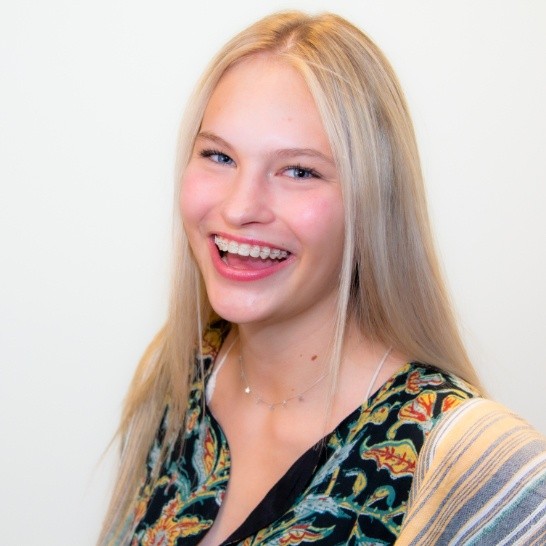 Actual Patient
With brackets made of monocrystalline ceramic, clear/ceramic braces are perfect for patients who want the effectiveness of traditional braces but also want to enjoy a beautiful appearance. These braces are made of clear materials and are therefore less visible on your teeth. For this reason, ceramic braces are often used by teenagers and adult patients who are looking for a clear alternative to metal braces.
Learn More About Clear/Ceramic Braces
Phase 1 Pediatric Orthodontics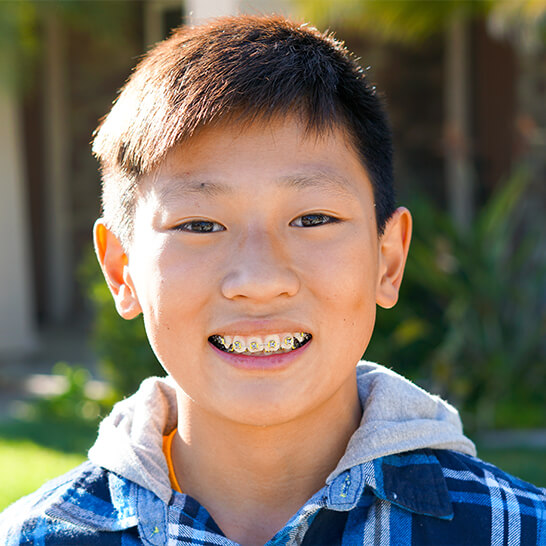 The majority of children that we see will not need early orthodontics treatment (orthodontic treatment before all the permanent teeth have erupted). However, it is critical to detect at an early age if there are any dental, skeletal, or facial developmental issues that may greatly benefit from early, or Phase 1 orthodontic treatment. The American Association of Orthodontists (AAO) recommends that children have a check-up with an orthodontic specialist no later than age 7. At this age, the posterior occlusion (the way the bite fits together) is established when the permanent first molars erupt. At this time, one can evaluate the antero-posterior and transverse relationships of the child's bite, as well as discover any functional shifts or crossbites. Permanent incisors will also have begun to erupt, and problems can be detected such as crowding, habits, deep bites, open bites and some jaw discrepancies.
If needed, early treatment takes advantage of bones and muscles that are still growing to optimize jaw & bite alignment. Creating room for crowded teeth, correction of crossbites, overbites & underbites and reducing the need for tooth removal are just some advantages of early treatment. If you or your dentist suspects that your child developmental issues that may need addressing, please contact us to schedule a complimentary orthodontic examination. Dr Rejman will determine if and when early treatment is indicated.
Learn More About Phase 1 Pediatric Orthodontics
Invisalign/Clarity Aligners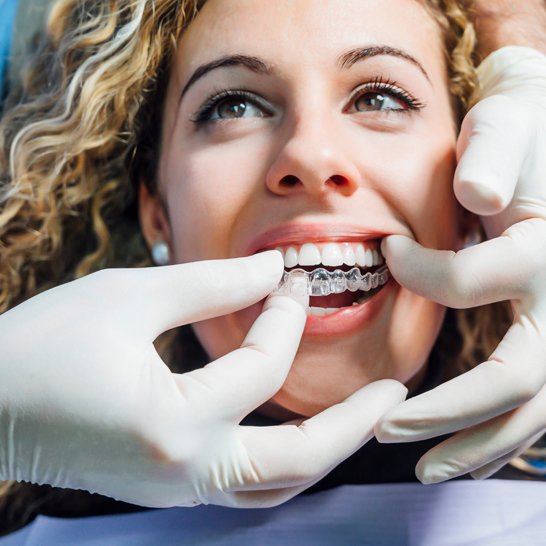 Many older patients wish they could straighten their smiles without compromising their professional image by wearing metal wires and brackets. Fortunately, this is easily possible with Invisalign clear aligners. Invisalign uses plastic trays to gradually move the teeth and, as the name implies, these aligners are difficult to see while they're being worn. They're even removable, so they come with zero restrictions in terms of diet and oral hygiene. We can review the pros and cons of aligner treatment during your consult as this treatment is not a fit for everyone.
Learn More About Invisalign/Clarity Aligners
Retainers & Oral Appliances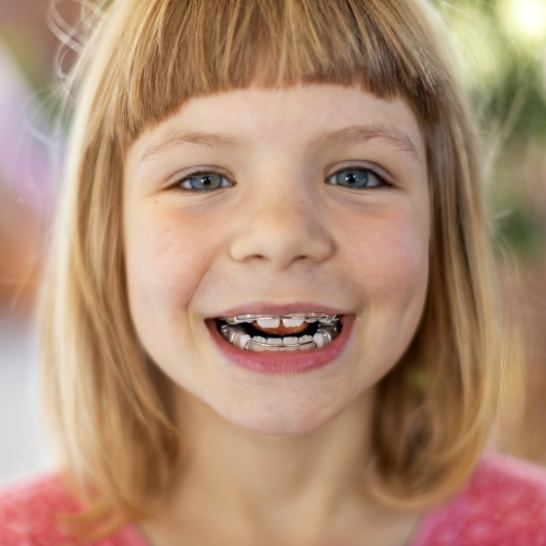 Aside from braces, there are several other orthodontic appliances that we may recommend in order to help you and your loved ones' smiles achieve their full potential. For example, if your child does not have enough room in their mouth for an upper permanent tooth to safely erupt, we can give them a palatal expander to widen their dental arch and give their adult teeth plenty of room to emerge and thrive. We also offer retainers after a patient is done with orthodontic treatment. These devices, which can be fixed or removable, prevent the teeth from shifting and undoing the treatment they just finished.
Learn More About Retainers & Oral Appliances
Dentofacial Orthopedics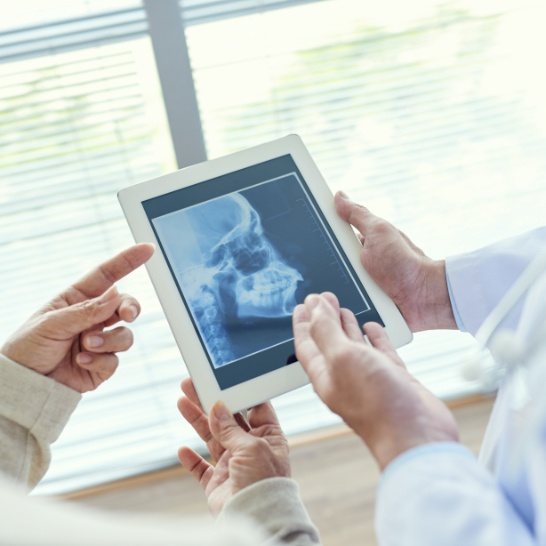 Dr. Rejman cares about more than just the alignment of his patients' teeth; he is also a specialist in dentofacial orthopedics. This area of orthodontics focuses on the development of the bones in the face, particularly the ones that hold the teeth in place. Dentofacial orthopedics therapy is most often performed on kids and young teens, as their facial bones are still forming. Early intervention usually involves the use of oral appliances, often with the goal of avoiding the need for facial surgery when the patient is older.
Learn More About Dentofacial Orthopedics
Orthodontic Emergencies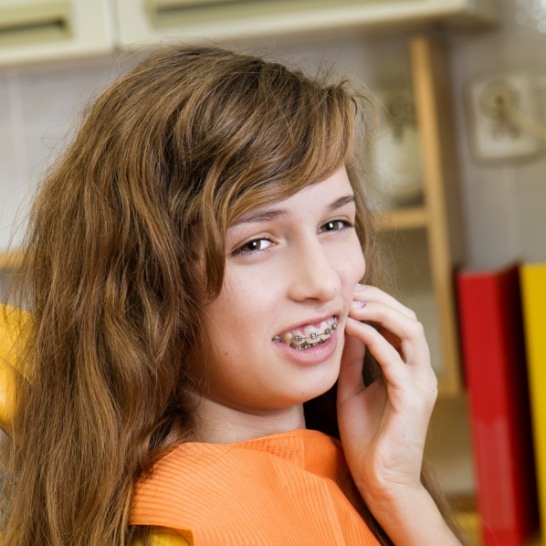 Even patients who diligently manage their oral health can still encounter orthodontic emergencies. Whether you misplace your retainer or one of the brackets of your child's braces pops out, our team at Meadows Orthodontics is here to help! If the unexpected happens, just call our office and we'll do everything we can do get you in for an appointment quickly. In fact, you might want to go ahead and save our number in your phone just so you're prepared.